Show Schedule
It's that time of year again...we are heading on the road. We have 3 shows this month, in Paris, Ontario, Montreal and Toronto. The stock has been counted and replenished and we are refreshed and excited to see familiar faces as well as meet new people. If you are in the area, stop by and see all the new products that have arrived over the winter months.
If there is something you would like us to bring to a show for you, please make sure to let us know in advance so we can get it in the van.
Brantford Gem and Mineral Show
Paris Farigrounds
139 Silver St.
Paris, ON
Saturday April 7th - 10am to 5pm
Sunday April 8th - 10am to 5pm
Club de Minéralogie de Montréal
Centre Pierre Charbonneau
3000, rue Viau (metro Viau)
Friday April 13th - 3pm to 9pm
Saturday April 14th - 10pm to 7pm
Sunday April 15th - 10pm to 5pm
Don Mills Civitan Arena
1030 Don Mills Rd.
North York, ON
Friday April 27th - 4pm to 9pm
Saturday April 28th - 10am to 7pm
Sunday April 29th - 10am to 5pm

Classes and Workshops
Are you looking for something creative to do this month? Why not join one of our classes and learn a new technique. We are offering 7 classes and a special workshop in April, from Loom Beading 101 to Wire Wrapped Pendant. There is something for everyone.
If there are new techniques you would like us to teach, please drop in and let us know or send us an e-mail and we would be glad to look into offering new classes.
Spiral Rope Bracelet - Using Czech seed beads, create a spiral rope style bracelet. A great technique for necklaces and lariats as well.
EMBELLIShMENT & SILK PAPER
Learn how to make silk paper, paint a fabric backing and then embellish it to make a little work of art. Participants will learn how to make silk paper at the beginning of the workshop but since one has to have a dry surface to work on, each person will choose a ready-made piece of silk paper as the inspiration piece for their project. In addition to the silk paper, you will also learn how to make beads out of sari silk.
Saturday April 7th - 9:30 and to 3:30pm $125 (with a break for lunch)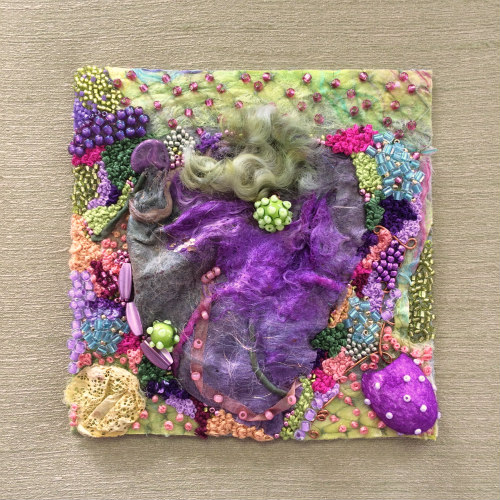 Wednesday April 11th - 1:30 to 4pm - $50
Tila Star Bracelet - Create a star pattern bracelet with the new 2-holed Tila beads and seed beads.
Loom Beading 101 - Create a loomed bracelet with Czech seed beads. A take home loom is included in the kit price.
Knotted Mala - Create a 108 bead Mala with nylon cord and 6mm gemstone beads. A tassel can be attached if desired.
Beaded Kumihimo - Learn the traditional Japanese braiding technique adding beads to create a beautiful bracelet. *Please note this project will not be completed in the class time. Students will learn how to finish before leaving the class.*
Wire Bending & Chain Necklace - Learn to bend and wrap Sterling silver wire, connecting bead segments to chain. You will also make a matching pair of earrings in this class.
Wire Wrapped Pendant - Learn to twist wire around a pendant to create a cage with bail.
Upcoming Workshop
How to bead a portrait
Presented by William Hodge, he will show you hot to use a photograph and transform it into a beaded portrait. The technique is also suitable for using any photograph as your design inspiration. As a full portrait can take hours to complete, you will be taught the "gourd stitch" and learn how to use it to create any image desired. At the end of the workshop, participants will know everything needed to produce a portrait or any visual image desired using seed beads.
Sunday June 3rd - 10am to 4pm - $125 (with a break for lunch)