Tornado Damage
As many of you are aware, in late September there were many tornadoes that hit the Nations Capital. One of the more powerful storms touched near our store. There was a range of damage to our unit as well as neighbouring units. Many asked for photos so here they are showing the progress from wreckage to warmth..
The morning of September 22nd. Roofing material was scattered in the parking lot as well as through our windows and doors. We were not able to enter the store from the front door as there was too much debris, including lots of broken glass.

Boarded up windows and door to keep the drafts out while we waited for the new windows to be custom made. Many thought we were not open.

Crisp, clean, brand new windows. We are waiting for a new sign to be created but the old one is still close to the building so we can be found. The pylons at the road with the "190" as well as details of business names will not be up until spring.

Taking into consideration all the events that transpired in late September, we feel very fortunate that the damages and losses that we have had were not greater. We thank everyone who stopped by, called or sent messages to see how we were doing.
There are still a lot of people in need and if you would like to help out, please consider donating to one of the organizations listed below.
Ottawa Food Bank - www.ottawafoodbank.ca
West Carleton Disaster Relief Fund - www.westcarletonrelief.ca
After The Storm (United Way) - www.afterthestorm.ca
Holiday Hours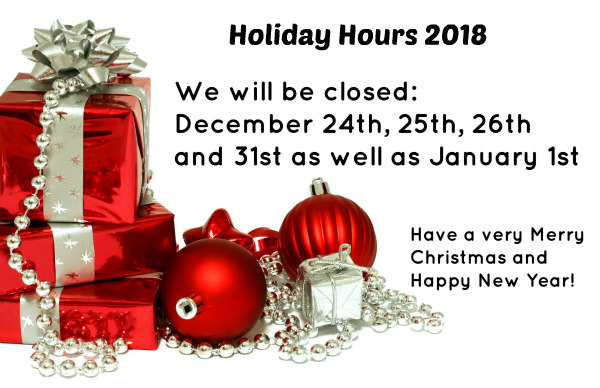 Classes and Workshops
We have a few classes this month, just in time to make unique gifts for people on your lists. We will be taking a short break in our course schedule for the holidays. Classes will resume at the end of January. If there is something that you would like to learn, please let us know and we will try to put it in the schedule.
Russian Spiral Bracelet - Using 4mm gemstones, 4mm crystals and seed beads - create a beautiful spiral bracelet. A unique pattern, great for any occasion. Colours can be personalized for anyone on your list this year.
A look ahead to 2019
Intuitive Beading
Strengthen your creative confidence and demystify the challenge of intuitive beading! The outcome of the three part workshop will be a small beaded piece that you can turn into a brooch or put it in a frame.
"What is intuitive beading?" you ask. It is working without a pattern sometimes even without a plan. It is a spontaneous approach to beading – one lets one's instinct guide them. Some describe it as "working from your heart rather than from your head". We have some "tricks" we think will help you shed some of the constraints you may feel.
Date option #1 - Wednesday January 23rd, 30th & February 6th - 1:30 to 3:30pm
Date option #2 - Saturday January 19th, 26th & February 2nd - 9:30 to 11:30am
Cost $125.00 – includes most supplies although you might want to supplement from your stash after the discussion on the first night. You might have a special bead, a sentimental piece of jewellery that is broken, a unique button, a cabochon, a shell. Bring them in and we will see how to incorporate them.
Native Beading
We are pleased to have Naomi Smith from Neyaashiinigmiing (CapeCroker), Ontario as a workshop leader. Naomi is actively involved in educating others about the ways of the First Nations people of the Woodlands and Northeastern area often through the story of beads.
Beaded Purse - Friday March 8th & Saturday March 9th - 9:30 to 4pm
Cost: $250 plus a small kit fee payable to the instructor.
In this workshop you will learn the raised beadwork technique to begin making and assembling a purse. This course is labour intensive and might not be completed by all students. All techniques will be shown to ensure everyone knows how to complete the project.
Students will make a version of this purse in the photograph. We will update the photo when we have a current picture of the actual project. Actual purse made in the workshop will have less detail so students have a chance to complete the project.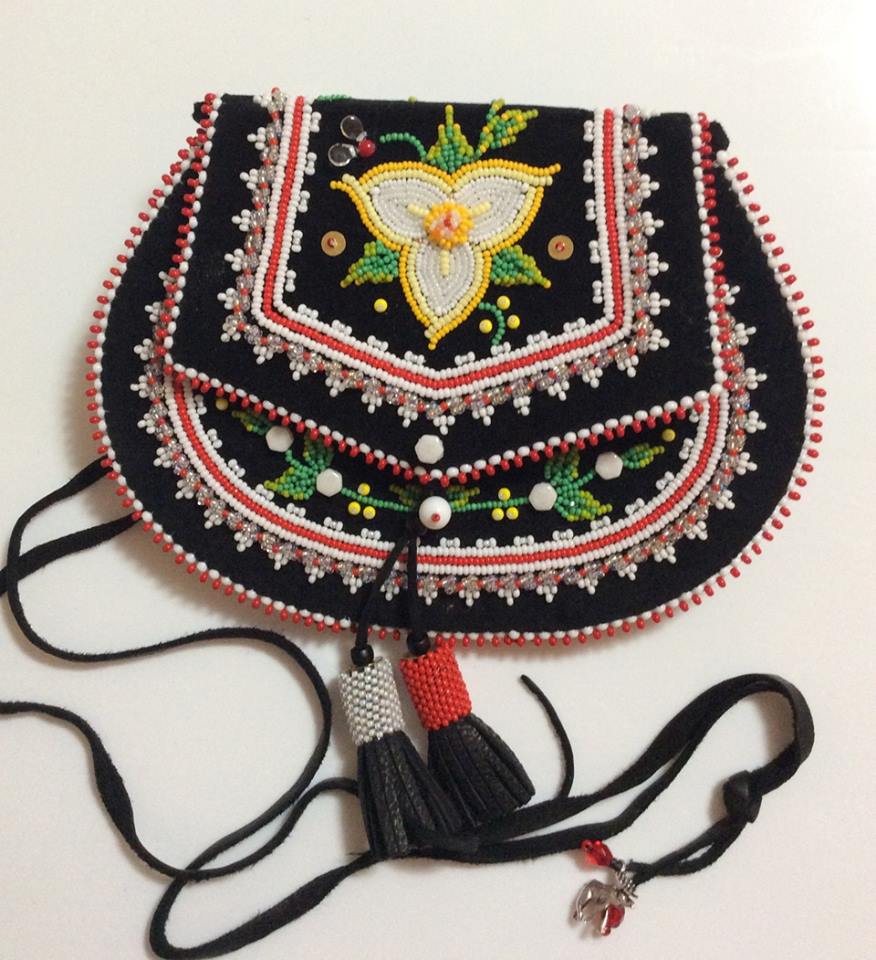 Beaded Poppy - Sunday March 10th OR Tuesday March 12th - 9:30 to 4pm
Cost: $150 plus a $15 kit fee payable to the instructor.
In this workshop you will learn the raised beadwork technique to make a Beaded Poppy which will be made into a brooch.

Victorian Beaded Strawberry - Monday March 11th - 9:30 to 4pm
Cost: $150 plus a $15 kit fee payable to the instructor.
You will learn how the Native Strawberry emery is reborn as modern and functional form using traditional materials and embossed beading techniques and spot applique.