Good Friday Day
We will be closed Friday March 30th for Good Friday Day.
Show Schedule
It's that time of year again...we are heading on the road. We have 2 shows this month, in Peterborough and Ottawa. The stock has been counted and replenished and we are refreshed and excited to see familiar faces as well as meet new people. If you are in the area, stop by and see all the new products that have arrived over the winter months.
If there is something you would like us to bring to a show for you, please make sure to let us know in advance so we can get it in the van.
Peterborough Gem and Mineral Show
The Evinrude Centre
911 Monaghan Rd.
Peterborough, ON
Saturday March 3rd - 10am to 5pm
Sunday March 4th - 10am to 5pm
Aboriginal Family Festival - Children's Pow Wow
Carleton University, Ravens Nest Gymnasium
Parking Lot 5 (OC Transpo #4, 7, 111)
Saturday March 24th - 12pm to 5pm
Sunday March 25th - 12pm to 5pm
Grand Entry both days will be at noon.
Classes and Workshops
Are you looking for something creative to do this month? Why not join one of our classes and learn a new technique. We are offering 10 classes and a special workshop in March, from beginner Beading 101 to Wire Wrapped Pendant. There is something for everyone.
If there are new techniques you would like us to teach, please drop in and let us know or send us an e-mail and we would be glad to look into offering new classes.
Wire Wrapped Pendant - Using square and twisted wire, learn to wrap wire around a pendant to create a cage with a bail.
INTUITIVE BEADING workshop
Strengthen your creative confidence and demystify the challenge of intuitive beading! The outcome of the three part workshop will be a small beaded piece that you can turn into a brooch or put in a frame.
"What is intuitive beading?" you ask. It is working without a pattern sometimes even without a plan. It is a spontaneous approach to beading - one lets one's instinct guide them. Some describe it as "working from your heart rather than from your head". We have some "tricks" we think will help you shed some of the constraints you may feel.
*fee includes most supplies although you may want to supplement from your stash; a special bead, a sentimental piece of jewellery, a unique button, cabochon or shell.
Tuesday March 6th, 13th and 20th - 1:30 to 3:30pm
Saturday March 10th - 9:30 to 12pm - $45
Tila Star Bracelet - Create a star pattern bracelet with the new 2-holed Tila beads and seed beads.
Beading 101 -
Are you new to beading but not sure where to start or what all the terms mean? In this class we will clarify the basic tools needed to start beading as well as some of the stringing materials and supplies that are most commonly used. You will learn to make a pair of earrings and a bracelet complete with crimps and a clasp.
Beaded Kumihimo - Learn the traditional Japanese braiding technique adding beads to create a beautiful bracelet. *Please note this project will not be completed in the class time. Students will learn how to finish before leaving the class.*
Introduction to Knotting - Learn the traditional technique of knotting using silk thread, bead tips and gemstone beads.
Pearly Twirl Bracelet - Using seed beads and glass pearls, learn to create a twisted bracelet.
Saturday March 31st - 1:30-3:30pm - $35
Tree of Life Pendant
- Learn to create a unique tree pendant with Artistic Wire and gemstone chips. This technique can be modified to create larger wall pieces or to make personalized birthstone keepsakes by changing the beads.
Upcoming Workshops
embellisment & Silk paper
Learn how to make silk paper, paint a fabric backing and then embellish it to make a little work of art. Participants will learn how to make silk paper at the beginning of the workshop but since one has to have a dry surface to work on, each person will choose a ready-made piece of silk paper as the inspiration piece for their project.
Saturday April 7th - 9:30 and to 3:30pm $125 (with a break for lunch)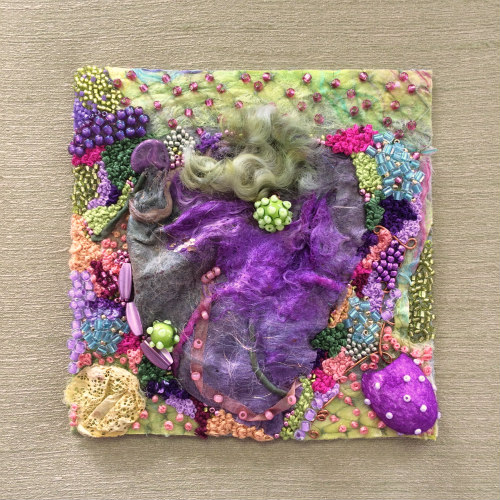 How to bead a portrait
Presented by William Hodge, he will show you hot to use a photograph and transform it into a beaded portrait. The technique is also suitable for using any photograph as your design inspiration. As a full portrait can take hours to complete, you will be taught the "gourd stitch" and learn how to use it to create any image desired. At the end of the workshop, participants will know everything needed to produce a portrait or any visual image desired using seed beads.
Sunday June 3rd - 10am to 4pm - $125 (with a break for lunch)