Show Schedule
It's that time of year again...we are heading on the road. The stock has been counted and replenished and we are refreshed and excited to see familiar faces as well as meet new people. If you are in the area, stop by and see all the new products that have arrived over the winter months.
Aboriginal Family Festival - Children's Pow Wow
*New Location*
University of Ottawa
Monpetit Gym
125 University Private
Ottawa, ON
Saturday March 21st - 11:30am to 5pm
Sunday March 22nd - 11:30am to 5pm
Please note: We do not have our regular set-up at the Pow Wow, if there is something you would like us to bring for you, please let us know ahead of time so we are able to get it in the van.
Classes and Workshops
March is National Craft Month, why not sign up for a class or workshop and learn something new. We are offering 9 classes and 2 special workshops in March, from beginner Beading 101 to Wire Wrapped Pendant. There is something for everyone.
If there are new techniques you would like us to teach, please drop in and let us know or send us an e-mail and we would be glad to look into offering new classes.
Beaded Kumihimo - Leanr the traditional Kapanese braiding technique, adding beads to create a beautiful bracelet.
Saturday March 7th - 9:30 to 12pm - $45
Introduction to Knotting - Learn the traditional technique of knotting using silk thread, bead tips and gemstone beads.
Saturday March 7th - 1:30 to 4pm - $40
Wave Bracelet - Using 8/0 seed beads and 6mm beads, this course is a great introduction to working with seed beads. Create a Wave style bracelet.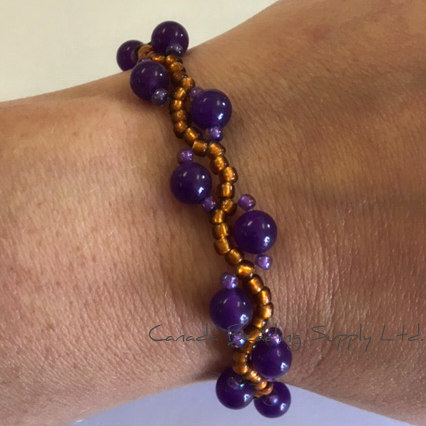 Tuesday March 10th - 1:30 to 4pm - $50
Tila Star Bracelet - Create a star pattern bracelet with 2-holed Tila beads and seed beads.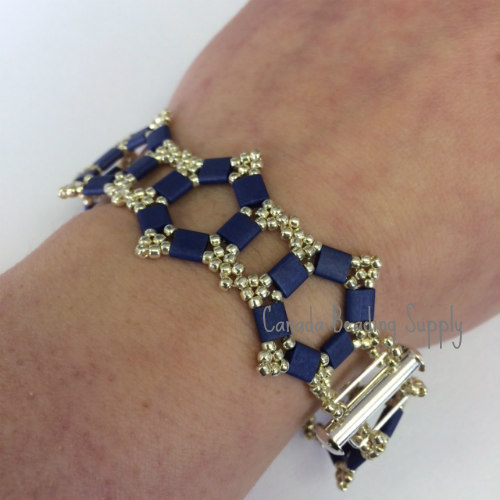 INTUITIVE BEAD EMBROIDERY WITH ANNE MARIE DESAULNIERS

Anne Marie is a mixed media artist with a passion for techniques and a love of beads, fibre, recycling and found objects. She has always been a creator and has explored many opportunities to expand her repertoire of creative skills. Anne Marie describes her approach to a project as intuitive: projects just seem to happen! A bead, a piece of fabric, an idea, a theme, or even a dream, might spark her imagination. She thoroughly enjoys teaching as the energy and the electricity generated by creative minds in a room is inspiring.
Take advantage of Anne Marie's knowledge and skills in this beaded art doll workshop. The only skill you need is an ability to thread a needle!
Time: 9:30 am to 4:00 pm (with a break for lunch)
Date: Saturday March 14th, 2020
Cost: $150.00
Space is limited, sign up soon to avoid missing out on the workshop. Click here to sign up
Anne Marie's lovely landscape pendants were featured in the Summer 2019 issue of Belle Amoire Jewelery. Learn how to make your own as Anne Marie will help you create a fantasy landscape of your choice. Techniques used in this class will be needle felting as well as hand and bead embroidery. Working in a small format means you should be able to complete one pendant in the class and maybe begin a second one! Be inspired by Anne Marie's eclectic creative background! She enjoys sharing her expertise.
Time: 9:30 am to 4:00 pm (with a break for lunch)
Date: Sunday March 15th, 2020
Cost: $150.00
Space is limited, sign up soon to avoid missing out on the workshop. Click here to sign up
Skill level: All levels but you must be able to work with wool, and also be physically capable of making repetitive movements, with a single felting needle.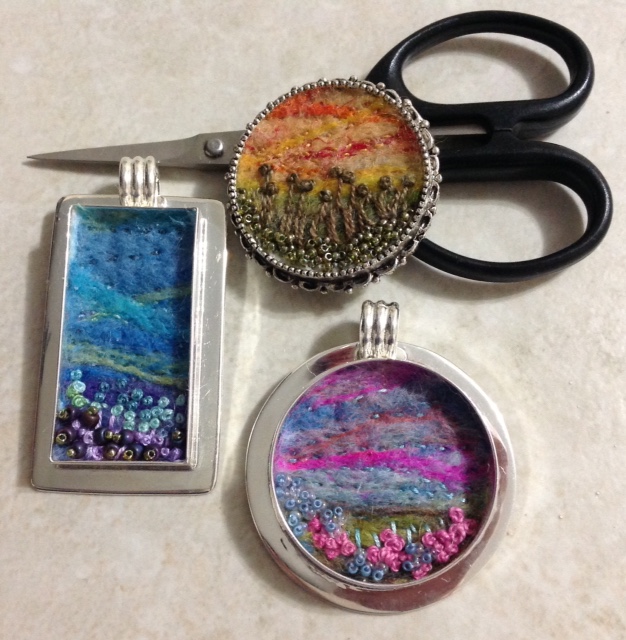 Tuesday March 17th - 1:30 to 4pm - $55
Wrap Leather Bracelet - Weave 4mm beads between leather to make a wrap bracelet or a long necklace.
Tuesday March 24th - 1:30 to 3:30pm - $35
Tree of Life Pendant - Create a unique tree pendant with Artistic Wire and gemstone chips.
Wire Bending and Chain Necklace - Using gemstone beads, sterling silver wire and chain, learn to create wrapped loops making a necklace and matching pair of earrings.
Beading 101 - Are you new to beading but not sure where to start or what all the terms mean? In this class we will clarify the basic tools needed to start beading as well as some of the stringing materials and supplies that are most commonly used. You will learn to make a pair of earrings and a bracelet complete with crimps and a clasp.
Keep up to date with new products before the newsletters come out and get notifications of special promotions.