Always a favourite, these organic shapes are a classic for weddings, graduations or everyday wear.
White pearls - potato, rice, nugget, button and keishi.
Nugget shape
Keishi shape
Already available in black, white, brown and dark blue - the new colours include bone, morning sky and montauk blue. Sold in 8.5" squares.
KO Thread is a high quality, Japanese made 100% pre-waxed nylon that is colourfast and tangle-resistant.
New colours include rose and smoke which complement the 20 other colours we already carry. Spools are 55 yds
A great gift for any beginner beader. This plier kit has all the tools one would need to start beading - round nose pliers, chain nose pliers, 2 different wire cutters, crimping plier, a scoop, split ring tweezer, fine tip tweezer - $95.00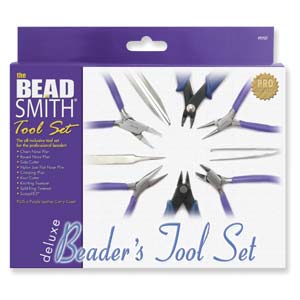 We have a large order of seed beads arriving in the next few weeks. Keep an eye on our Facebook page for details when it arrives. Here is a sneak peak of some of the colours arriving in 15/0.