Holiday Closures
The store will be closed for part of the Christmas season but our website is open 24/7 for your shopping needs.
We hope you are able to safely spend some time with your friends and family.
Are you looking for the perfect gift for someone on your list this year? Why not buy them a gift card and save money at the same time. Starting today and running until December 24th, buy a gift card over $50 and you will save 20%. Gift cards and be purchased in store or online. Promo gift cards can only be redeemed after December 27th.
Example - $50 gift card will cost you only $40, $100 gift card will cost you only $80 etc.
Courses
There is still time to sign up for our classes leading up to the holiday season. Learn a new technique to make a gift for a loved one on your list this year.
Classes must be paid for in advance and there is a maximum of 4 students per class. Unfortunately, we do not accept last minute walk-ins. In the event of store closures due to Covid-19, a credit or refund will be given for the workshops.
All participants will be required to wear a mask for the duration of the class - no eating or drinking please.
Some of the classes are labour intensive and students will not finish their project during class time. Everyone will be given instruction on how to finish on their own.
Saturday December 4th - 12:30 to 3pm - $50
Beaded Ornament - Using seed beads, create a beaded net to drape over and ornament.
Tuesday December 7th - 1:00 to 3:30pm - $65
Beaded Scarf - Weave 8/0 seed beads together to create a beaded scarf with the netting technique.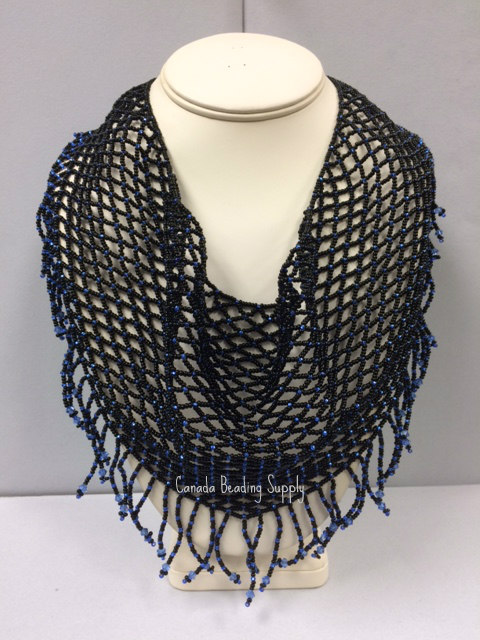 Tuesday December 14th - 1:00 to 3:30pm - $55
Loom Beading 101 - Create a loomed bracelet with seed beads. A take home loom is included in the kit price.
Saturday December 18th - 12:30 to 3pm - $75
Knotted Mala - Learn the traditional technique of knotting to make a meditation Mala. This technique can also be used to create necklaces and bracelets.
Tuesday December 21st - 1:00 to 3:30pm - $40
Spiral Rope Bracelet - Using seed beads in different sizes, create a spiral rope bracelet. This technique can be used to make necklaces and lariats as well.